Important: This site uses affiliate links. This means if you purchase something through our site, we may receive a commission at no additional charge to you. Any sponsored posts will be clearly labeled as such. All opinions are honest.
Note: If you want the quick answer, this is the best harness I've found for dogs that can easily escape. If you want the long answer, keep reading.

Finding a dog harness that a sufficiently skilled dog can't escape can sometimes be daunting. As I quickly learned, the best no-pull harness does not mean the same thing as the best escape-proof harness. And no matter all the well-meant advice, a perfect fit harness doesn't always do the job.

On top of that, at least for me, the harness should be compatible with using a dog seat belt tether so I'm not swapping harnesses at the park or doubling up.

I'd never had an issue like this was harnesses until Cecil.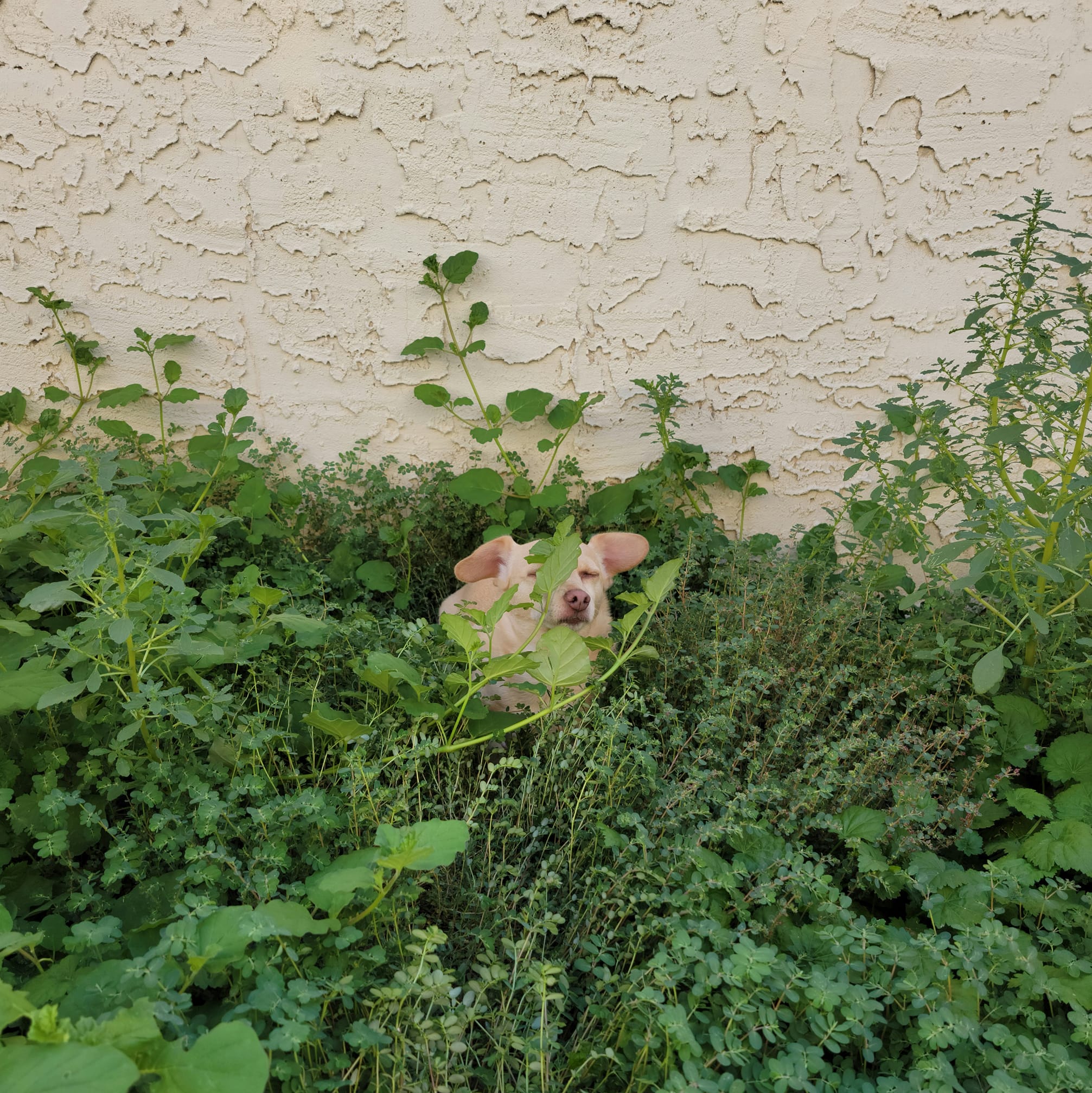 Cecil came to me after being abandoned by his family. His background is a mystery, but he has been my delightful companion for many years now.

At home, Cecil is a very good boy. He loves his family and he's beyond tolerant with the other dogs and cats in the household. He enjoys belly rubs and even knows commands like "gentle" to delicately take the proffered chicken from my fingers.

With his adorable corgi traits shining through, combined with his cuddly chihuahua side, it's impossible not to love Cecil.

So for everyone—including myself—it comes as a bit of a surprise to learn that Cecil isn't the best in public. He rides nicely in the car and he's friendly towards strangers, but once he's out in the park, he's easily overwhelmed and on guard towards new dogs and stray cats. There are gentle steps to remedy this issue, but they all require one thing—an escape-proof harness.

His first harness was a basic nylon harness from Petsmart, similar to the below but not the same brand.
Nothing fancy, but this style did the job for the other dogs. The harness seemed to fit well, but Cecil could shake it off in one move. I tried another one, a padded neoprene harness, also from Petsmart. Below is a similar option.
He couldn't entirely get out of it on the first try, but he could get one leg out and start on the next before I could intervene. I also never got it to fit right. Needless to say, this wasn't working either.

He even escaped a slip lead like this at the vet.
Training was put on hold as I scoured the internet and stores looking for something my wiggly-butt Houdini couldn't escape.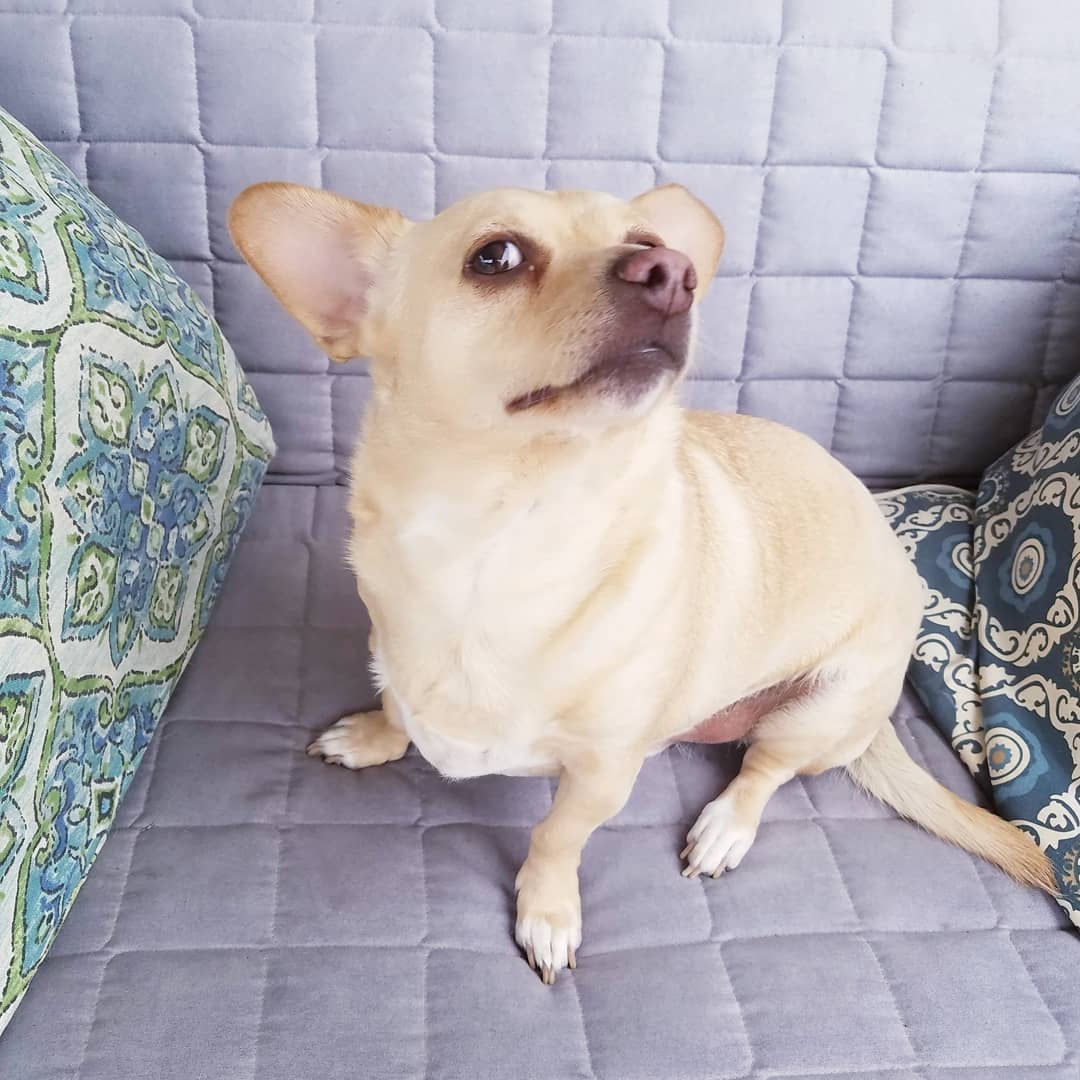 Don't underestimate the stubby legs.
Among the options, I found this one from Ruffwear.
This is a well-known brand, and I would have tried it, but it seemed too similar to the others that hadn't worked. I wanted something different.

I'd used this mesh style one before with another dog and while it works great as a no pull, it does nothing to prevent escape.
I also found this dog harness on Etsy, which was a close runner up. It is from LoftusDogHarnessUSA and cleverly uses rubber heat shrink to adjust the harness to fit your dog. It's definitely on my bucket list to try.

Eventually, though, I settled on this one, which is simply called Harness Lead.
I wanted the teal colored one, but at the time they were out, so I wound up with the red.

When I received the harness, I wasn't sure if I had made a mistake. It was deceptively simple—little more than a polyester rope. The material seemed nice enough to give it a chance, though.

After watching a quick tutorial on YouTube, I attempted to put the harness on Cecil. Even though he was a little wiggly with excitement, it did not take long to get the harness situated. The trick, though, is it must go in the exact position as described; it is not reversible left and right.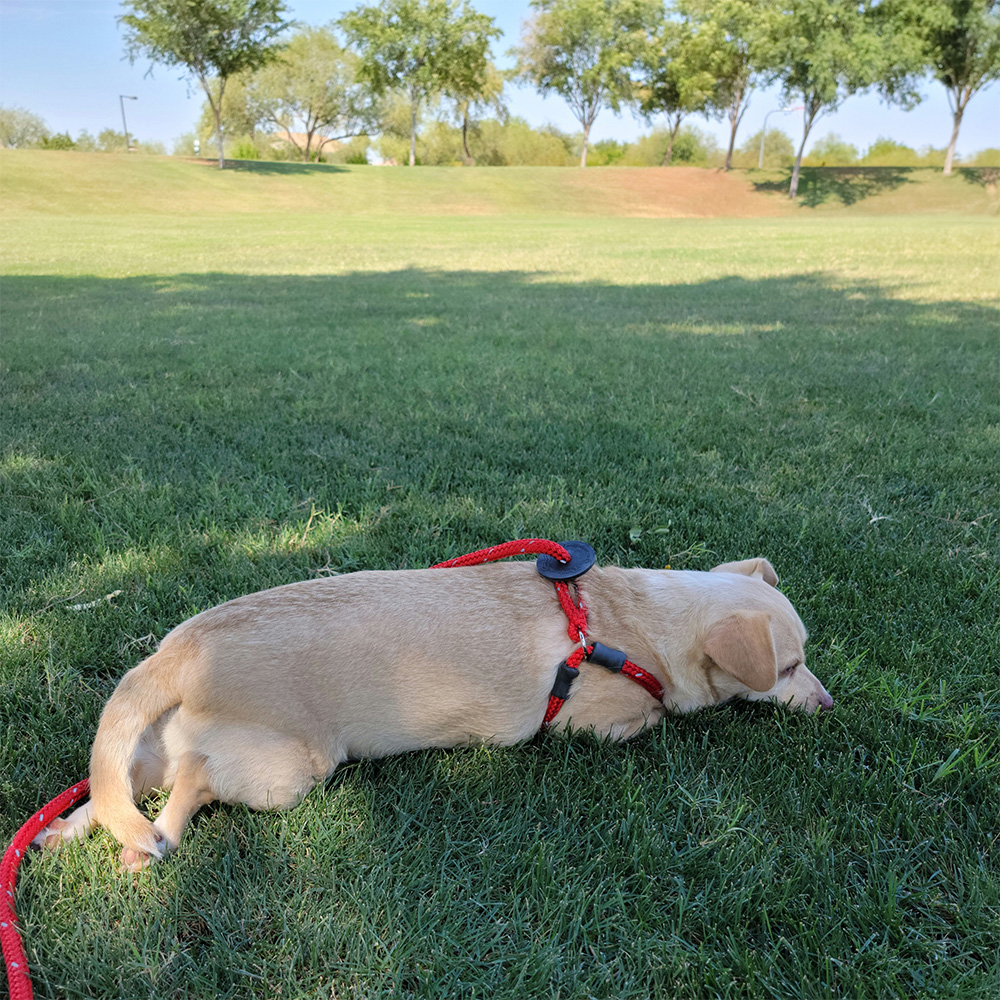 Cecil practicing his sploot.
As soon as the harness was on, Cecil was off to play. Even though it's not a traditional harness, I found I could easily clip the carabiner for the seat belt tether through it and he stayed in place. As I mentioned, he is well behaved in the car so I don't know how it would hold up if he was pulling on it.

After using this harness for a few months, I have a few observations to share.

First, he can't run a lot in it if I'm holding the lead. This makes sense, considering the design, but if you like to run with your dog, this won't work for more than short bursts. That is sufficient for Cecil and me, though. He runs off leash at home as much as he wants.

Second, the lead is lightweight, which to me is a good thing. Cecil is not a chewer, and I never leave him unsupervised in his harness, so I don't have to worry about it being durable in that regard. I would not advise anyone to leave their dog alone in this harness anyway. However, because it is lightweight, I can drop the lead when we're in a safe area and let him walk around without having to take the harness on and off. It doesn't seem to bother him in the least. Otherwise, I would try tying it up out of his way.

Third, the 'stopper' piece will move up and down. This is normal, as long as it's above the hole the lead threads through. If I'm concerned the harness might be loose, I just nudge the stopper down a little, but I haven't had a real problem yet. I do occasionally loosen the harness a little but I'm not sure that's really necessary.

Most importantly, Cecil has not yet been able to escape the harness—and not for the lack of trying. I would never trust any harness one hundred percent, but this has done for us what I wanted: provided me enough time to gently redirect his attention away from the strange dogs and cats as he learns good boy behaviors.

It's a slow process, but little by little, we make progress, and I don't think that would have happened without Harness Lead.

As for Cecil, he seems to love his harness. As soon as I get it out, he jumps around and barks with excitement, then tries to stick his head through the harness to 'help.' Once I've got it on him, he's out the door and pawing at the gate, unable to get out into the world fast enough.

For me, this admittedly strange little harness brings me peace of mind. For him, it has come to mean long walks and great adventures ahead.